Bedlam Paintball Yeovil
Call Us On; FREEPHONE 08004102020
Paintball is an increasingly popular sport in the UK, with the groups taking part becoming more diverse.Bedlam Paintball is an expansive site in Yeovil, Somerset, and we host paintball parties and games for a range of guests. We maintain a safe and relaxed atmosphere that allows our visitors to enjoy a fun-filled day that offers a true insight into a real survival situation. So, whether you're planning team building with work or stag do activities for your friends, we're the number one choice for many.

Read More
Go Bedlam
Session of Paintball Entry & Equipment Hire
Just Pay for your Paintballs on the Day.
Please Note:You will use on average 300 to 600 paintballs in a session
£14.99
Book Now
Stag & Hen Session, Equipment Hire and 500 Paintballs
Book 12 or more players and get a Bunny Suit for the Stag worth £35 Free
£50
Book Now
Go Bedlam Randalstown
Go Bedlam — our pay-as-Includes entry to venue: Equipment Hire & Adrenaline Pumping Paintball Game Scenarios. Just Pay for your paintballs on the day.
Please Note: You will use on average 300 to 600 paintballs in a session
£10.00
Book Now
Game Bedlam
Game Bedlam for Schools is Specially Designed Fixed Cost Product for Schools and Youth Groups Package for ages 12 to 17 (Weekday only) 400 Paintballs
5 Games (80 paintballs per game) over 3 hours
£39.00
Book Now
Game Bedlam Lite
School and Youth Group package for ages 11 to 17: 3 Hour session with 5 x Games and 250 Paintballs (50 paintballs per game).
£29.00
Book Now
Paintballing is the perfect choice for many occasions, including stag and hen dos and birthday parties. It is also utilised by many businesses as the ideal team-building exercise, with communication and cooperation being necessary to succeed.
No matter how long you play for you will never get bored at Bedlam Paintball. We have several game modes that we utilise throughout the day, each of which helps to bring a different purpose and atmosphere to the proceedings. This also allows players to discover which game mode they are most suited to and makes it unlikely that one team will dominate every round.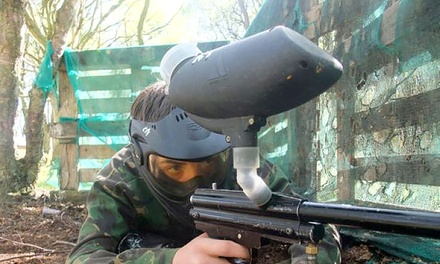 A full day's event runs from around 9:00 a.m. in the morning until approximately 4:00 p.m. in the afternoon. Refreshments are provided throughout the day for those attending the site, while we do stress that the minimum age for players is 10 years old.

Bedlam Paintball Yeovil Summerst. The best paintballing deals Near Yeovil.
Go Bedlam Paintballing Yeovil is a pay as you go package to play paintball in Yeovil . The package includes entrance fees, game fees, paintball insurance, paintball marker gun, paintball hopper and propellant for the whole day.
YEOVIL,PREMIER PAINTBALLING VENUE;  Green Lane, Odcombe,East Chinnock ,Yeovil,Somerset,BA22 9SP